ABV: 48.0% | Volume: 700ml
Extraordinary depth; the perfect balance to create the most elegantly fruity expression.
In a flawless marriage, Malt Master David C. Stewart MBE brings together individual casks to craft an incredibly intricate and balanced expression; exemplifying the art and skill of Traditional Oak Tun Marriages with liquid from European and American casks.
A whisky of exceptional character, Twenty-Five hints at The Balvenie's most sought-after flavours - bold vanilla oak, crystalised ginger and sweet runny honey.
Presented in a case of rich burgundy colour that graduates to a lighter ombré hue, the colours represent the evolution of flavours in the marrying process. Rings of white gold foil represent each year of maturation.
View full details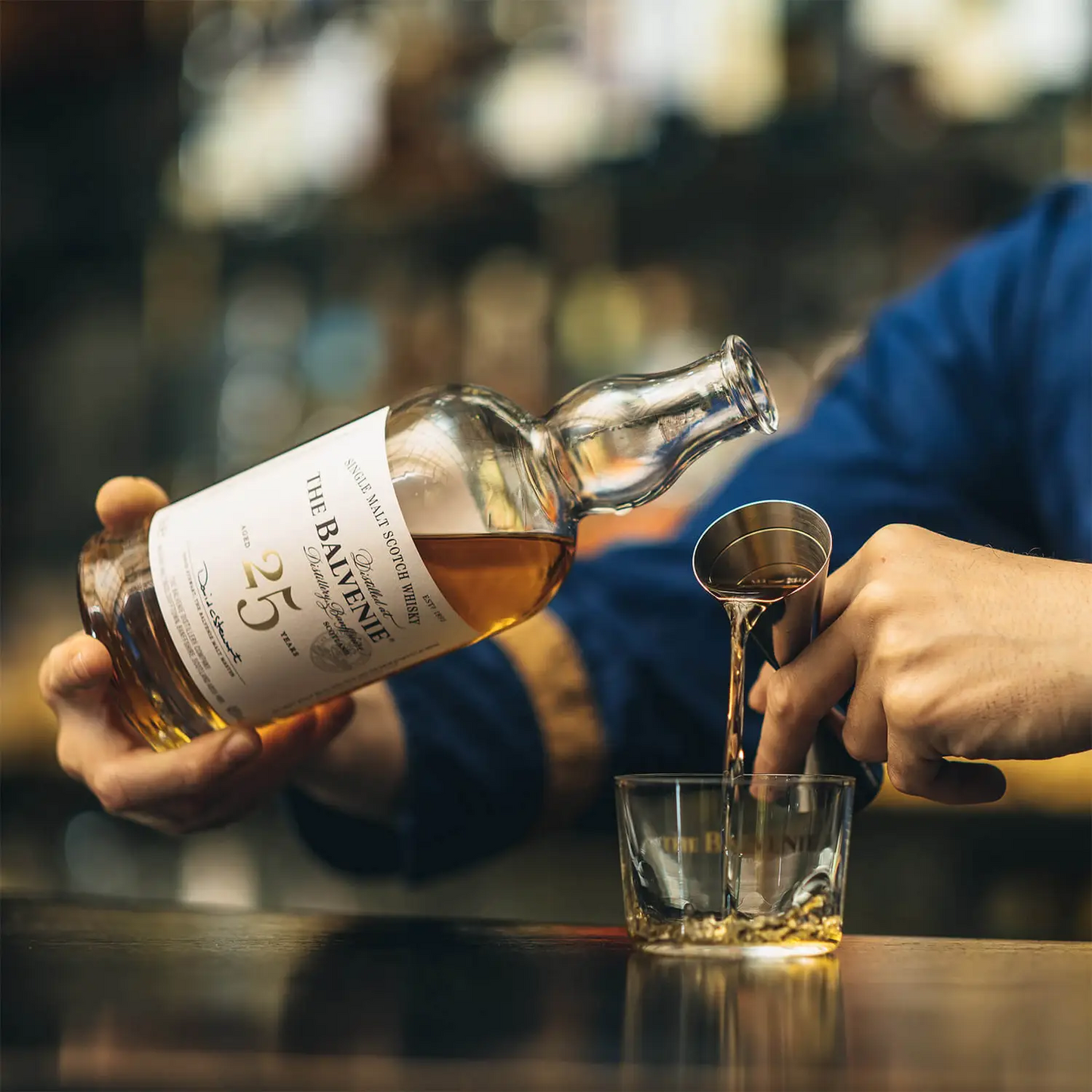 FLAVOUR PROFILE
Honey

Cinnamon

Apple

Oak
At The Balvenie we stay true to our Five Rare Crafts, making whisky the way we always have. Our craftsmen have an intimate understanding of their materials and a desire to make the very best whisky possible. Our process is a combination of expertise, skill and ambition which gives The Balvenie its unique character.
THE TASTING NOTES
Nose

Smooth and honeyed on the nose with mellow oaky tones and hints of candied orange peel.

Taste

The initial bold vanilla oak flavours slowly dissipate to reveal layers of toasted marshmallows, fresh fruit terrine and cinnamon infused apple tart.

Finish

Exceptionally long lasting sweetness.
The Balvenie Malt Master
David C Stewart (MBE)
The Balvenie Cask Finishes showcases the breadth and depth of our honeyed house style through a variety of diverse wood finishes. Our very own Malt Master David C. Stewart MBE pioneered this technique of finishing back in the 1980s, making him a leading figure, and expert, in crafting these whisky expressions.
Discover our
Whiskies
The Balvenie is a range of single malt whiskies crafted by Malt Master David C. Stewart MBE. Each expression is unique, but all are rich, luxuriously smooth and underpinned by a distinctive honeyed character.
Sign up for our
Newsletter
Discover unique experience and the latest updates about The Balvenie, a unique range of single malt Scotch whiskies hand-crafted in Speyside using centuries-old skills passed down through generations.