18

Year Old Festive Limited Edition Gift Set
ABV : 40% | Volume : 700ml

Profile
Oak, Baked Apple, Cinnamon

Cask type
Spanish Oloroso Wood & American Oak
FOR LONG AWAITED REUNIONS
A gift for long-awaited reunions this Lunar New Year. Each gift set comes with a bottle of Glenfiddich 18 Year Old and 2x branded nosing glasses.

We use fine Spanish Oloroso wood and American oak to mature this rich, intriguingly fruity and robust oak expression, but there are many more reasons why this expression is special.
A GIFT FOR EXTRAORDINARY JOURNEYS
For each happy reunion and exchange of gifts that Lunar New Year brings, an extraordinary chain of events has already taken place.
It takes a series of special journeys to make our celebrations possible, whether this means family members gathering from near and far, or generations of whisky makers mastering the perfect dram.
Like a festive ­firework display, Glen­fiddich is a spectacular fusion of elements. Water, air and barley are carefully crafted to create the awe-inspiring taste of the world's most awarded single malt.
 ----------------------------------
As the turn of Lunar New Year unites loved ones once more, we invite you to celebrate this special moment with the world's most awarded single malt.
Join together and raise a glass to the extraordinary with Glenfiddich.
ILLUSTRATION BY ARTIST YIXIN ZENG OF SHANGHAI, CHINA
View full details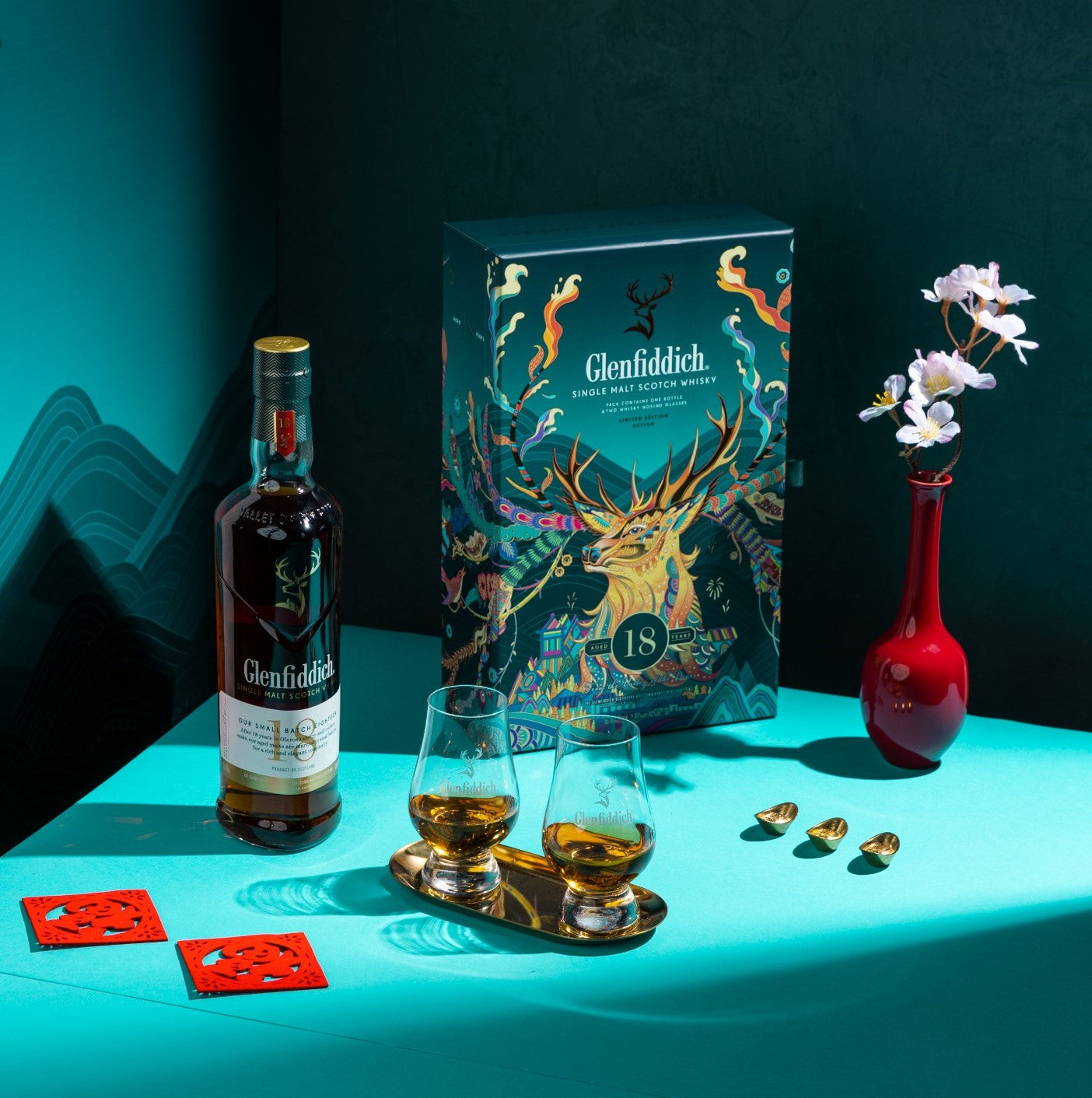 Flavour Profile

Apple
Oak

Cinnamon

Dried Fruit
"Every batch is individually numbered and carefully watched over. Each has extraordinary consistency and character from an intense marrying period, and a warming, distinguished finish."
The tasting notes
Nose
A remarkably rich aroma with ripe orchard fruit, baked apple and robust oak.
Taste
Richly delivers luxurious dried fruit, candy peel and dates. Overlaid with elegant oak notes.
Finish
Warming, rewarding and distinguished.
ideal food pairing
dutch apple pie
the pie's rich taste of cinnamon and raisins pairs perfectly with our fuller bodied Glenfiddich 18 Year Old.